Wales wrapped up the Grand Slam in Cardiff on Saturday following a 14th consecutive victory. The Welsh lineout finally arrived and succeeded, the scrum was solid as always and the Welsh defence grew in strength to seal a famous win.
Wales Defence grew in strength
Conceding fewer and fewer points as the tournament went by (19-15-13-11-7) shows just how important Shaun Edwards' work is to the squad.
They pressurised Johnny Sexton's space and caused him issues all game. Early doors they got off the line quickly and forced Ireland on to the back foot. Justin Tipuric disrupted the ball after just four minutes and this set the precedent for the rest of the 80 minutes.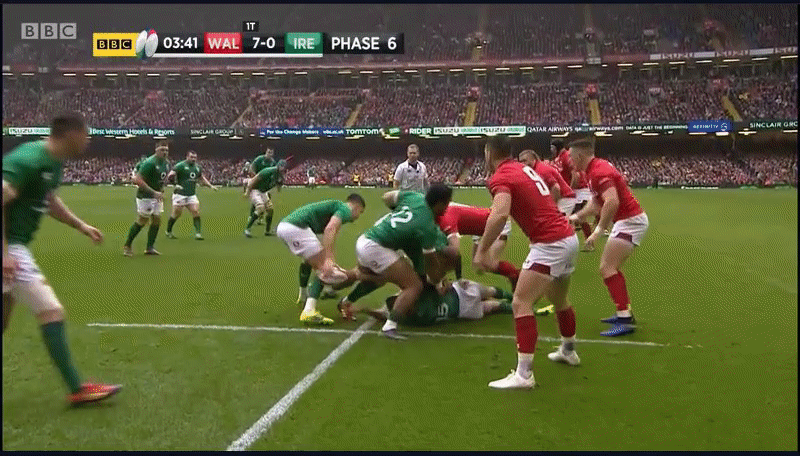 They limited Ireland's options with moves like this and disruption of the ball was vital in game management.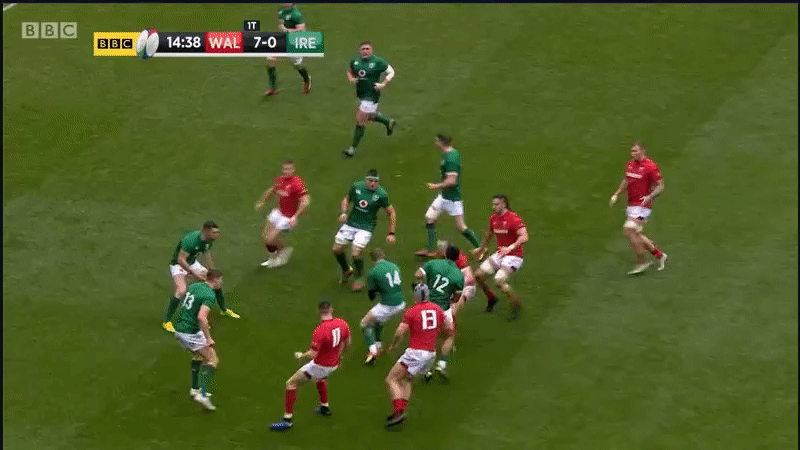 Here Wales follow up a free kick and immediately put the Irish ruck under pressure with Parkes and Navidi holding a strong position to slow the ball down and prevent Ireland attacking quickly.
This allowed Wales to set the defensive line and start again.
The intensity Wales competed with was based around applying pressure and forcing mistakes and was executed to a tee.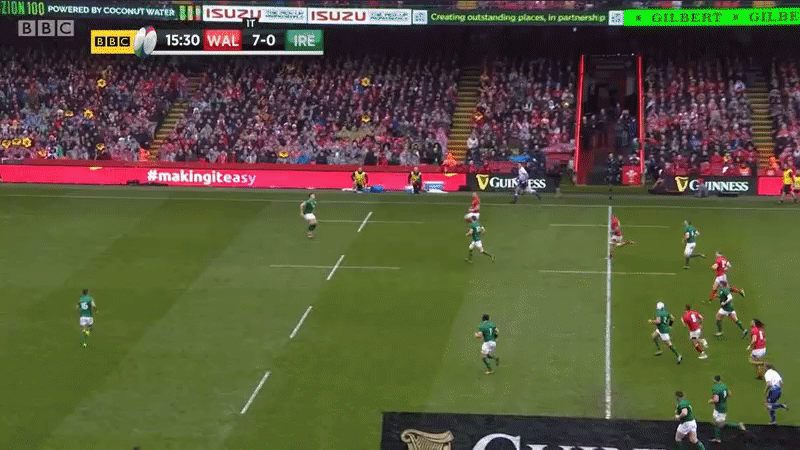 Liam Williams' kick chase forces Sexton to seal off and concede a penalty because of the Welsh players coming into look at gaining the turnover.
The speed in which Wales worked isolated Ireland's ball carriers is what laid the platform for Wales to set up the 25 point lead.
The Welsh defence has been great at breaking down team's pivotal weapons. England's scrum, Italy's back row and the Irish lineout/driving maul were all disrupted or negated.
Adam Beard spent most of the Six Nations ripping apart opposition mauls and that was no different on Saturday.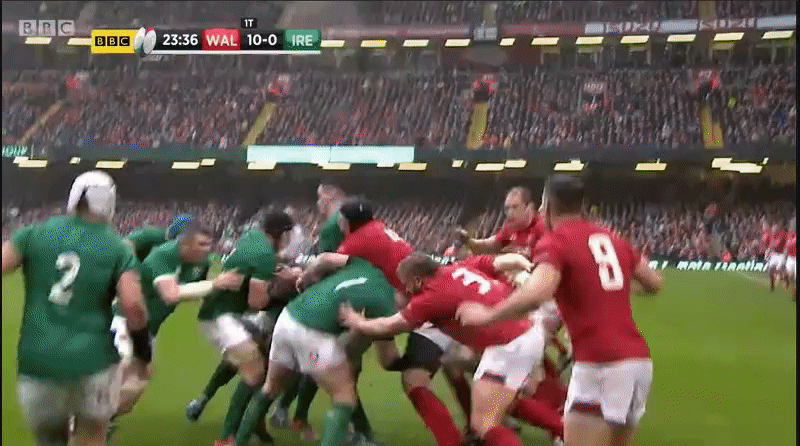 Swimming through the centre of the Irish maul he stops their forward momentum. They lose the option of continuing the maul as well as limiting the first receiver option.
Wales' lineout functioned well (more on that later) and picked apart an Irish one that held several weapons.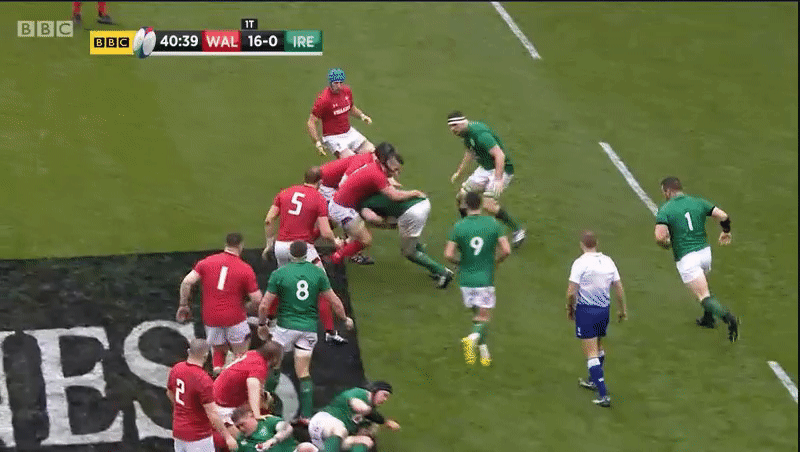 As previously mentioned in the Wales vs. Scotland analysis, Wales have aimed to hold the ball carrier up all tournament. This enables slow ball if they get free, but if not a scrum is set.
This plays massively into Welsh hands who conceded only four scrum penalties in over 70 scrums.
Here Beard, Navidi and Alun Wyn Jones hold O'Brien up and earn themselves a scrum.
The intensity and ferociousness of the attack is what makes it so lethal. The fitness levels of the players are remarkable.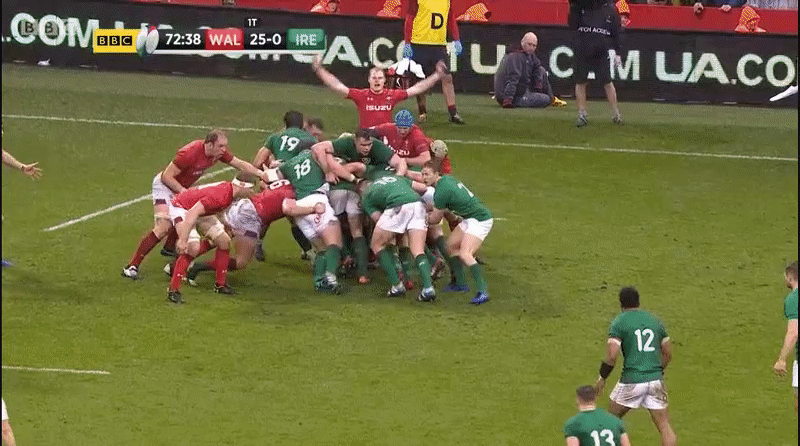 72 minutes into the game and defending his own line for a number of phases, Hadleigh Parkes still has the energy to race out of the line and prevent the option for Ireland to go wide.
It momentarily stalled the Irish attack and lost them metres.
Welsh lineout arrives
Despite a turbulent few games at the lineout it came good when it mattered against Ireland, despite the weather. They kept it simple with the calls and benefitted massively from it.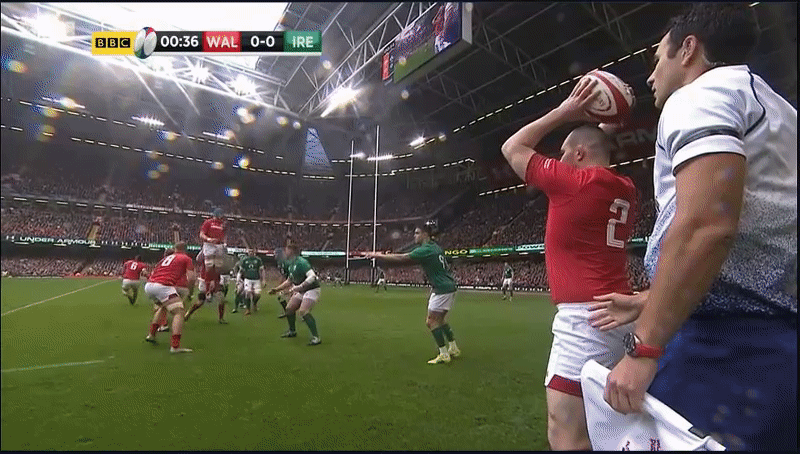 Jones as the option, safe ball is brought down cleanly and then the maul makes its way in-field to set up a great platform to attack from. It forces Ireland to cover a blindside of more space and extends the gaps between each defender.
Parkes eventually the beneficiary of this move with the opening try.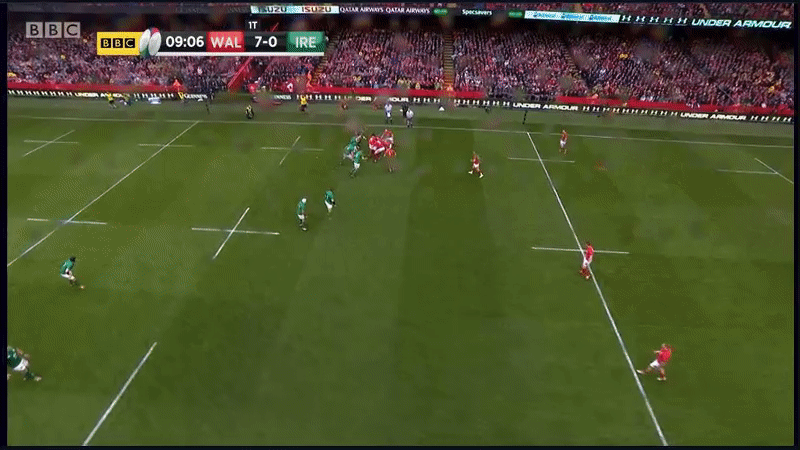 It worked against several defensive fronts (above). Making large amounts of yardage and putting Wales on front foot ball.
They eventually win the penalty and Wales extend their lead.
It yielded several attacks and the resulting penalty set one of these up. Ball to the back of the lineout, taken cleanly by Navidi to the ground and Liam Williams comes around the corner to carry over the gain line.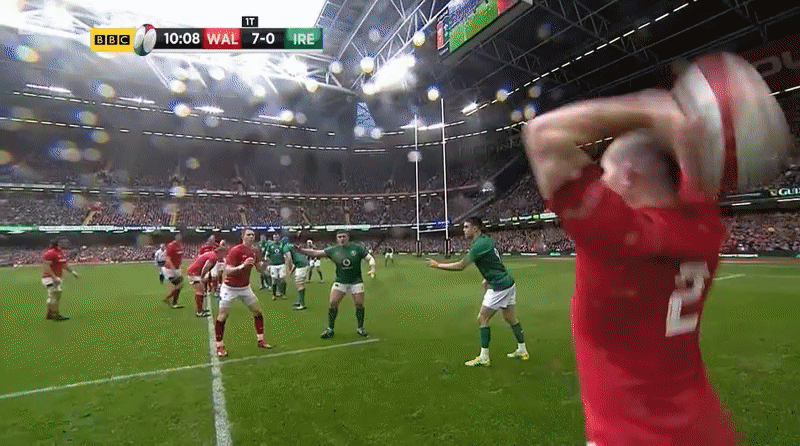 Setting up Wales' attack to go wide and stretch the defence is something they've looked to do, but haven't managed to do so consistently. The last game proved how dangerous it is when functioning.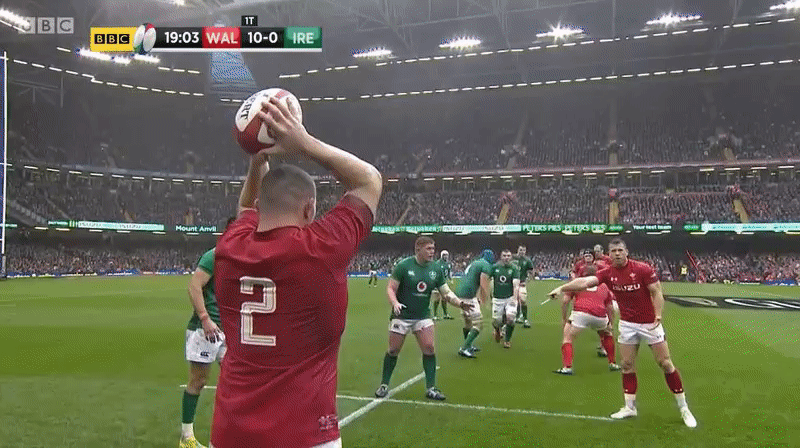 It worked so well that Wales managed to get attacking ball from lineouts that weren't taken cleanly. Ireland do well to disrupt, but Navidi comes around the corner to give Wales the attacking platform.
Utilising these options and carrying hard at first receiver is something Wales were helped by, allowing Gareth Davies to get clean ball again.
Wales didn't just utilise their own scrappy ball, but disrupted and tormented Ireland into some poor lineouts. Below, Alun Wyn Jones causes a loose ball and Wales turn it over.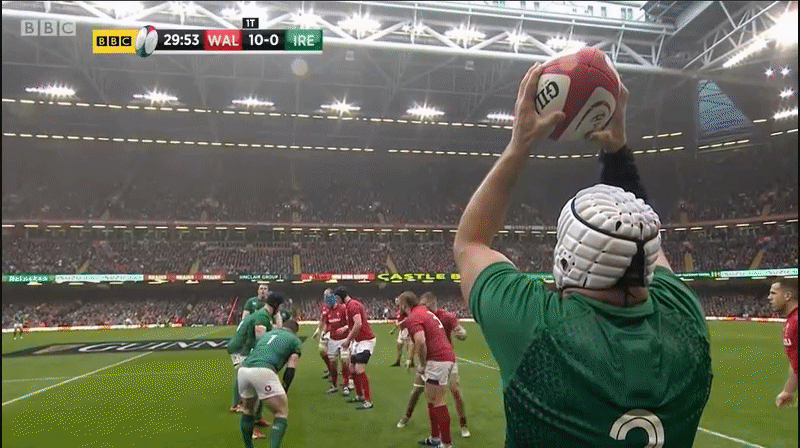 It wasn't Rory Best's day in his final Six Nations match as Wales caused him so many issues at lineout time. He ended up rushing a delivery and Wales gained front foot ball again.
It's these turnover battles that are key to being clinical. Wales had only 40% possession and 38% territory, but used their time in Ireland's half to perfection.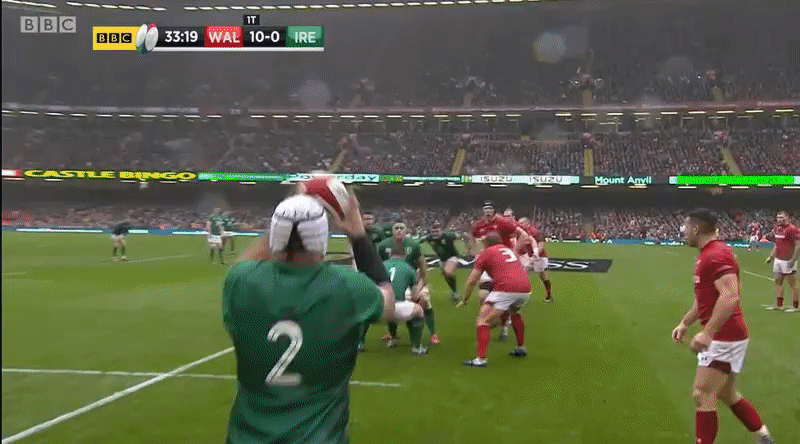 Beard again at the heart of the disruption and Jones peels around the edge and finds the gap inside of Sexton to cross over the gain line and allow front foot ball for Wales.
Pre-game steal stats were at 3% for Wales and 24% for Ireland. This was massively overturned in this game and a massive factor as to why Ireland never got into the game.
Scrum strength a massive boost
Wales' scrum has conceded just 4 penalties all tournament and now looks set to rival that of the other top nations of world rugby.
Wales weren't sharp to utilise the ball though and Gareth Davies was caught when he needed to use the ball sooner, following a great shove by Francis.
Cian Healy comes around and forces pressure on the gap where Navidi should be and it's back foot ball for Wales to clear their lines with.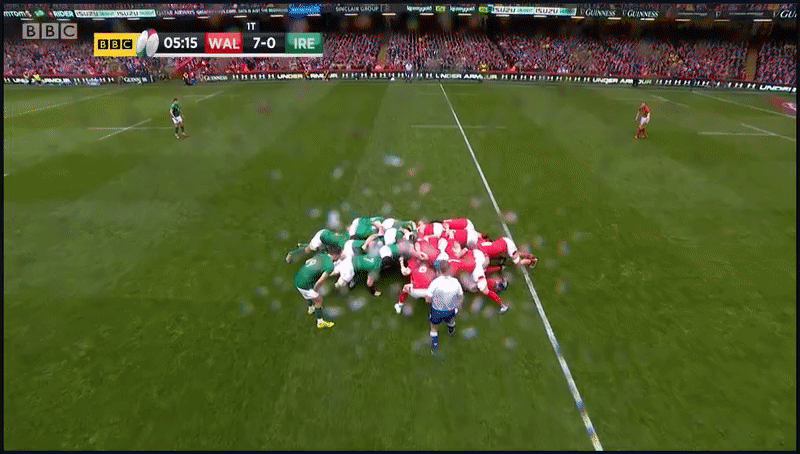 The Welsh front row is better than it has been for several years now. The depth is also there and that's a huge factor for an 80 minute performance.
Rob Evans put Tadhg Furlong under all sorts of pressure around the park, but his scrum dominance was superb. He gets the tighthead in all sorts of danger and as Furlong's knee hits the ground Evans earns his side the penalty.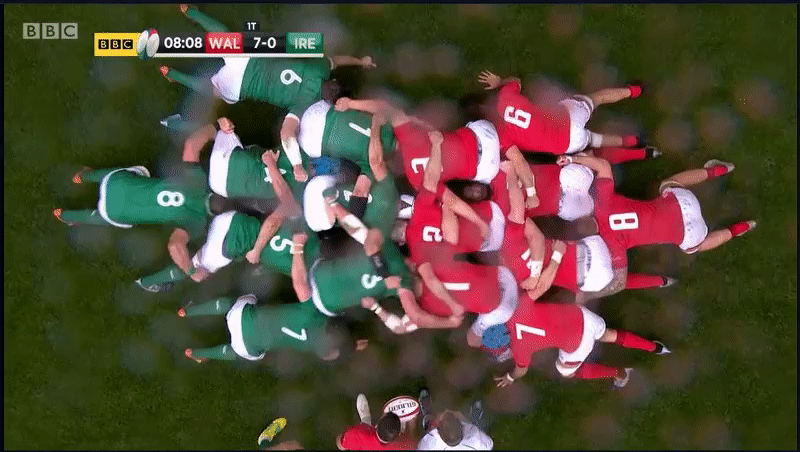 Setting down your marker early doors is what you love to do as a prop and Evans and Francis did this. Going in to the World Cup the only pack they haven't been tested against is New Zealand's.
Their performances in the last two international windows have been solid though and will give most packs trouble based on how square they line up and how well they hold their position and low base, which causes issues if the opposition don't bind well enough.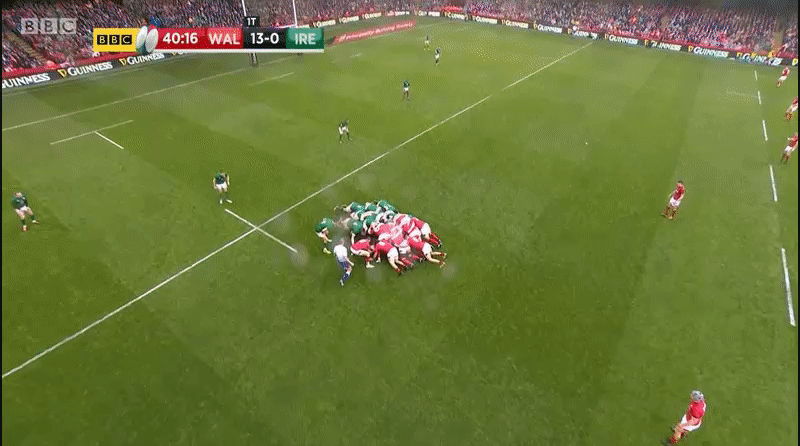 The Irish binding caused themselves issues all afternoon and here you see a great Welsh drive on the initial 'hit'. Healy then loses his bind, wheels around and concedes the penalty.
This sort of pressure when the clock is red is what Gatland will be seeking. It was another three points for Gareth Anscombe and Wales cemented their dominance right before the half.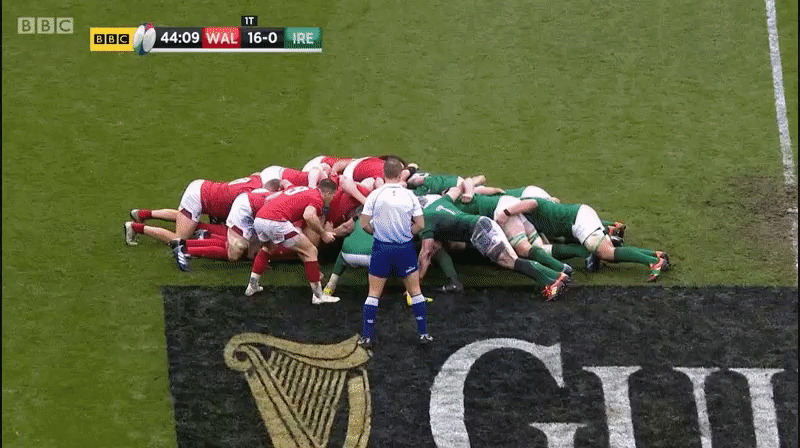 This pressure resumed after the break and here Wales get the shove on before it goes down, but it's enough to force Ireland on to the back foot and eventually forced a Johnny Sexton mistake.
Yet more pressure on Sexton created by the Wales pack.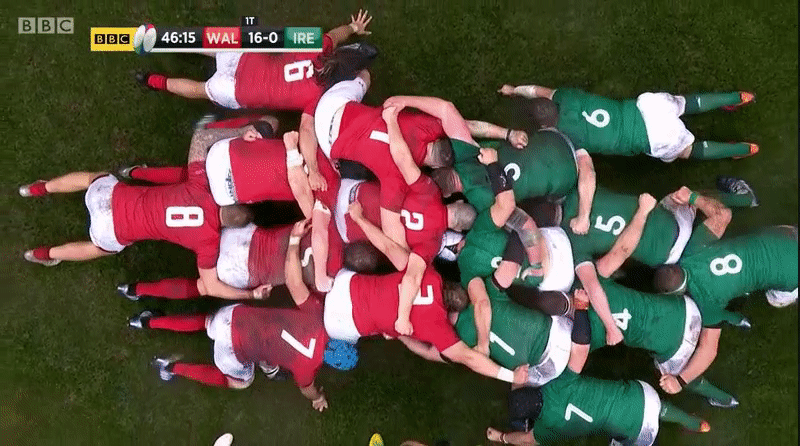 Looking at the Irish bind you can see how unstable Healy is above. It's low and wobbles inwards which is capitalised upon by Francis. Healy loses his strong base position and goes backwards.
Here the arrows demonstrate how his bind moves long before tucking under and pulling inside on Francis.
The extended line shows how his body angle revolves around and starts driving inwards causing him to lose his base.
The strong set piece along with the Wales defence growing in strength they capped off a very good tournament that can take them into the World Cup in a good place.
"Main photo credit"